Try out Joshua Project's interactive map of Frontier People Groups yourself!
New Technology brings New Awareness
60 years ago, the new technology of commercial air travel first enabled experienced missionaries to return home mid-career for advanced graduate studies together.
In supervising the studies of 1,000 such missionaries over a decade, Dr. Ralph Winter noticed they were all working in partnership with existing local churches, among people groups first pioneered 100 years earlier.
Yet each of these 1,000 missionaries was aware of neighboring peoples where the church was not yet established and where pioneer work was still needed. Based on the reports then available, Dr. Winter estimated that nearly 9 out of 10 non-Christians lived in people groups where the church was not yet present, and different skills were needed for pioneer mission work.
From this new understanding, Dr. Winter launched a campaign through which mobilizers raised awareness and prayer which the Holy Spirit used to lead many new missionaries to focus on Unreached People Groups (UPGs).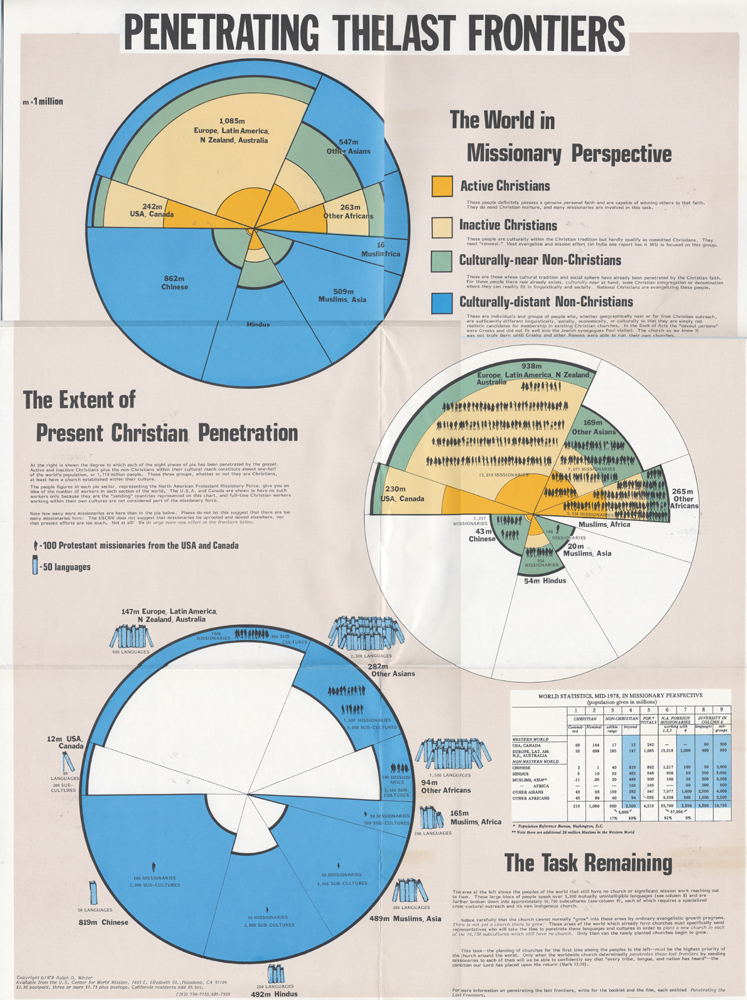 The Current Situation
Today the situation is much improved. Among 4 out of 10 UPGs, pioneer work has established multiplying churches and given way to partnership. Though still unreached (continuing to need outside assistance), the form of outside assistance needed has changed for these Unreached People Groups.
However 1 in 4 people in the world (1 in 3 of the world's non-Christians and 6 of 10 UPGs) remain Frontier People Groups (FPGs), where:
less than 1 in 1,000 identify with Jesus,
there is no sustained Jesus movement yet, and thus
pioneer mission work is still needed.
Joshua Project now has a whole section devoted to Frontier People Groups, and Joshua Project's new interactive map of Frontier People Groups (see opening video above) gives new clarity regarding the concentration of these groups by size, geography and language: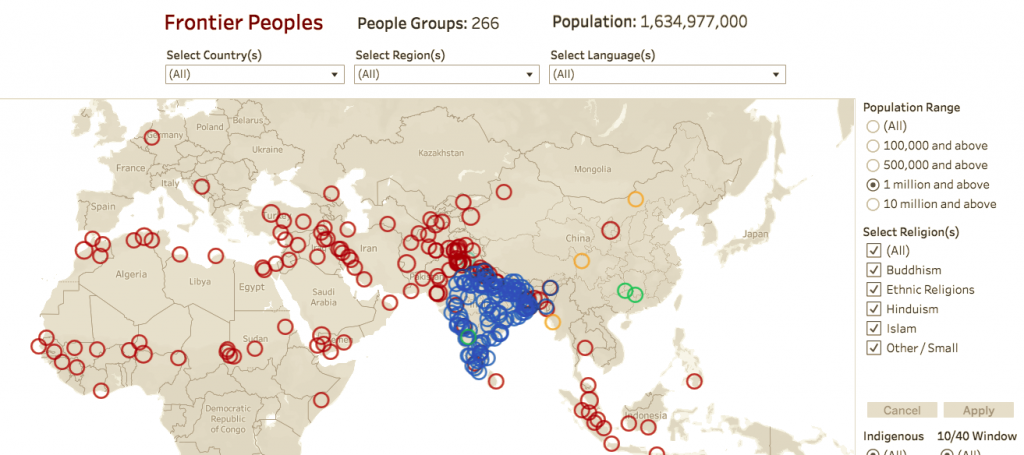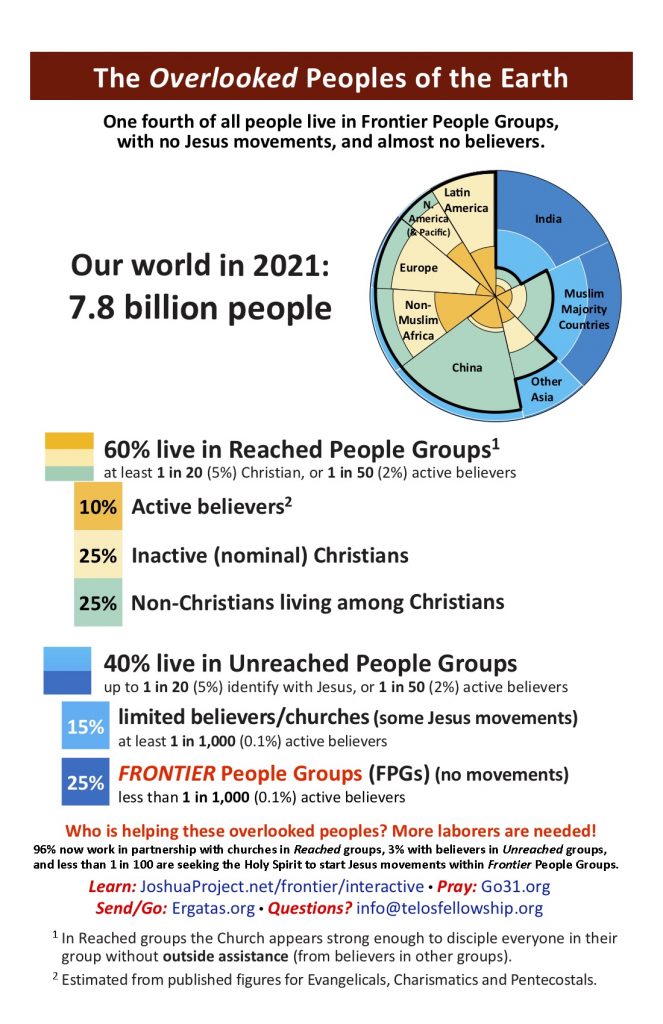 Current Distribution of Laborers
Most missionaries are led, through their personal contacts and awareness level, to serve where local believers are asking for help, and can offer missionaries immediate fellowship and assistance with language learning, cultural adaptation and daily living. Ninety-nine of every hundred missionaries thus partner in a wide variety of ways with local believers where churches are already established.
In contrast, less than 1 in 100 missionaries have suitable awareness and training to pursue Jesus movements among Frontier People Groups, where 1 in 4 of all people in the world remain in isolation from the gospel.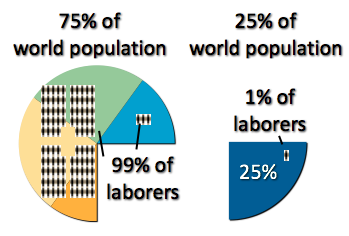 A new campaign is needed to equip mobilizers around the world to raise awareness and prayer for Frontier People Groups.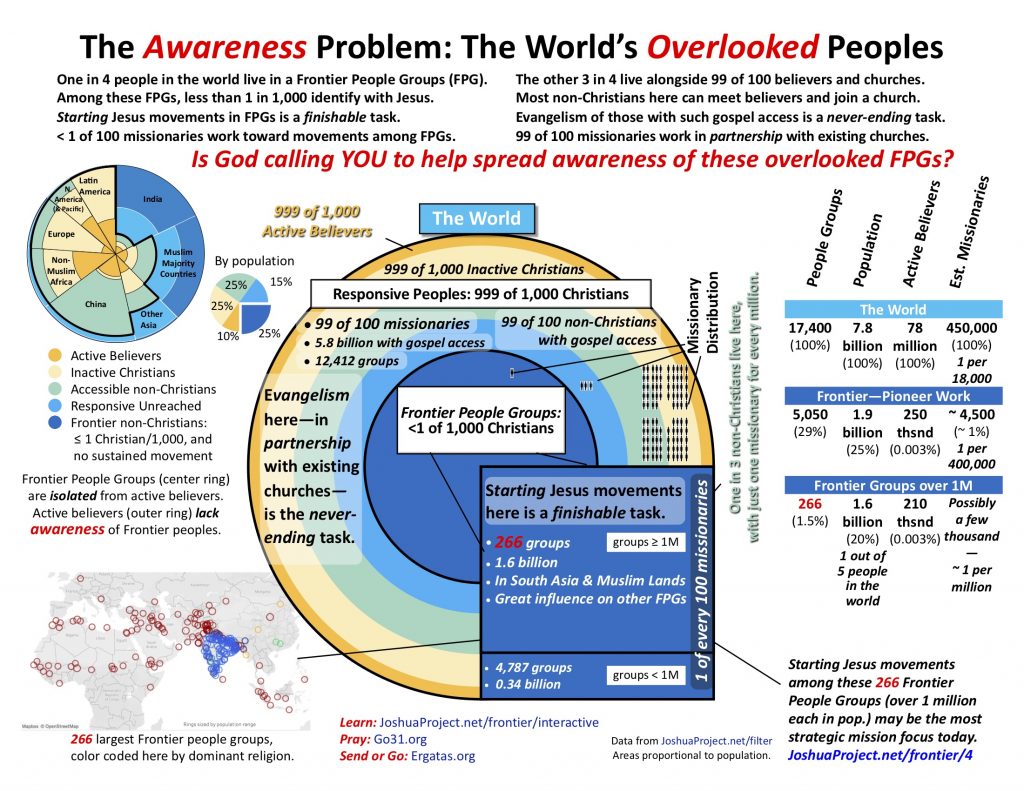 New Technology to support New Awareness
For more than 25 years, Joshua Project has worked in partnership with local researchers around the world to develop profiles for every people group in every country. Individual profiles are outdated to varying degrees, yet the overall picture makes several things clear:
1 in 4 people alive today live in Frontier People Groups.
1 in 5 live in 266 large FPGs of one million or more.
These large FPGs have tremendous influence on many smaller FPGS.
Nearly all of these these large groups are Muslim or Hindu.
7 of 10 in these large groups live in South Asia.
4 of 10 in these large speak Hindi or Urdu
(mutually intelligible variants of one language).
Less than 1% of missionaries work among FPGs in pursuit of Jesus movements to multiply God's blessing.
Jesus Movements are a highly effective way to multiply God's blessing among Frontier People Groups. (See No Place Left network and the 24:14 Coalition).
A new awareness is needed, and is stirring.
It is also clear from global mission experience that:
Mobilized "inside" (local) believers can become highly effective witnesses.
"Proximate" believers (from similar cultures) can also become highly effective.
"Outsiders" can help inside and proximate believers discover New Testament multiplication principles for rapid Jesus movements to rapidly multiply highly effective local believers.
The Holy Spirit uses awareness to stir outsiders and proximate believers to pioneer work among FPGs.
Mobilizers among proximate peoples play a critically undervalued role in raising awareness and resources among their own people and connecting them with understanding of New Testament multiplication principles.
Suggested Next Steps